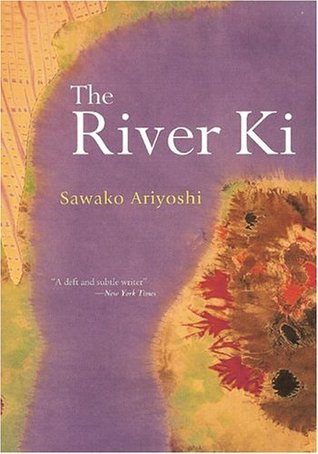 All around the world the twentieth century has been a time of important, not to say radical social changes. In the Far East, notably in China and Japan, the transition from the old way of life to a modern society was rapid as well as fundamental because the adaptation to the needs of global economy went hand in hand with the Westernisation of culture. Not everybody welcomed the development, not everybody was able or willing to adopt new ideas. Although Hana, the protagonist of
The River Ki
by Ariyoshi Sawako, received higher education in Wakayama-City, she adopts the traditional role of a Japanese wife when she enters the marriage arranged for her by her beloved grandmother. Her daughter Fumio, however, is a rebel and virtually from the day of her birth revolts against everything that smells of tradition and of old times. Fumio too gets married and has a daughter who is unlike her.
Ariyoshi Sawako
(有吉 佐和子) was born in Wakayama City, Japan, in January 1931, but for a while she lived in Java, Dutch East Indies (today: Indonesia), with her parents. She graduated in literature and theatre from Tōkyo Women's Christian College and thanks to a Rockefeller Foundation Fellowship in 1959 she spent nine months at Sara Lawrence College in New York. For a living she worked with a publishing company and wrote short stories and scripts for diverse journals and magazines. Her first published novel was
The River Ki
(
紀ノ川
: 1959), the first part of her river series comprising also untranslated
有田川
(1963; tr.
The Arida River
),
日高川
(1966; tr.
The Hidaka River
), and
鬼怒川
(1975; tr.
The Kinu River
). Several other books followed, most notably among them the novel
香華
(1962;
tr. Flowers and Incense
), the historical novels
The Doctor's Wife
(
華岡青洲の妻
: 1966) and
Kabuki Dancer
(
出雲の阿国
: 1969), or the collection of three previously published shorter works titled
Jiuta
(
地唄
: 1967). Two later novels that are internationally known are
The Twilight Years
(
恍惚の人
: 1972) and
Her Highness Princess Kazu
(
和宮様御留
: 1978). Ariyoshi Sawako died in Tōkyo, Japan, in August 1984.
It's early spring 1900 and twenty-two-year-old Kimoto Hana travels down
The River Ki
in Wakayama Prefecture to become the wife of Matani Keisaku, the headman of Isao village. There were other marriage proposals, but for reasons nobody understands Toyono, the family matriarch who brought up Hana after the early death of her mother, decided to give her beautiful, charming and accomplished granddaughter to a family of lower status than her own. In great splendour Hana heads for her new home.
"[…] The villagers waved from the banks of the river as the wedding party sped by. It was already common at this time for a wedding procession to consist of nothing more than a line of rickshas, so an old-fashioned procession of five boats with the bride hidden in a palanquin was enough to make people stare in amazement."
Hana has a hard time finding her place in the Matani household. Her mother-in-law doesn't wish to give up her power and her brother-in-law is hostile towards her. However, she adapts to their ways and submits to everything because she firmly believes that it's her duty. Nobody except her brother-in-law realises how step by step she takes over control of the family. She also welcomes and encourages her husband's political ambitions. Soon she has a son and then a daughter Fumio. The girl turns out to be a wild and rebellious tomboy from the start. Three more children follow, but above all Fumio gives Hana reason for worry.
"Hana had no recourse other than to supervise her daughter's education from behind the scenes. She was very strict about having Fumio take lessons in the traditional arts of Japan—the tea ceremony, flower arrangement, and the koto—which cultivated modesty and refinement in a young girl. Fumio openly showed her disdain for such lessons. […]"
Reluctantly, Hana allows Fumio to study at Tōkyo Women's College, but to her great relief, even she with her modern ideas about the role of women makes a suitable match before long and has a healthy son. Fumio's husband mostly works abroad, so Hana sees little of the family. Moreover, Hana is busy backing her husband's political career until he dies suddenly at the beginning of World War II. After having lived in Wakayama-City for years, she returns to the family's village home and as the bombings make Tōkyo an increasingly dangerous place, Fumio sends her daughter Hanako and her youngest son to live with Hana. Hanako comes to adore her grandmother…
The story of
The River Ki
paints a picture of Japan, notably of the social changes that the country saw from the turn of the twentieth century through the late 1950s and that became manifest even in the family life of the minor gentry living in rural areas. The protagonists are three generations of women – mother Hana, daughter Fumio and granddaughter Hanako – and each of them is the epitome of her era. Hana represents old times because she lives the traditional role as woman with pride and conviction as well as with great intelligence. Fumio, on the other hand, stands for radical modernisation, not to say Westernisation during the interwar period that implied deep generational conflict. And Hanako embodies the modern age, i.e. Japan after World War II, when living conditions have changed so fundamentally that the traditional way of life largely disappeared from modern society. The three protagonists as well as all other characters appear true to life thanks to the detailed and vivid description of their lives, opinions and feelings. Also the plot feels authentic. Judging from the English translation, the author's language is powerful and rich in imagery that makes the book a great pleasure to read.
It was rather difficult to find
The River Ki
by Ariyoshi Sawako in a translation that I could read, but I definitely didn't regret taking the effort to search for it. I enjoyed the novel very much, most of all because it sheds light on life in a Japanese family drifting on the current of twentieth-century history like the bride on the river and from the point of view of three generations of women. As usual it was the parts about ancient Japanese culture that fascinated me most although I enjoyed everything else too. To my regret, the author hardly touched the political developments that led Japan into disaster and that must have had an impact on daily life in virtually every family, but then her focus was clearly on social changes, the lives of women and the "clash of generations". All things considered, I'm glad to be able to recommend this novel first published in 1959.
* * * * *