The novels that I reviewed this month three years ago cover the period from the late nineteenth century through today and took me to very diverse regions of the planet. I started my bookish explorations of time and space with the contemporary novel
Portrait in Sepia
by Isabel Allende that tells as much the history of a family as of Chile at the turn of the past century. Then I moved on to Kyoto, Japan, in the early 1960s devouring the modern classic
The Old Capital
by Kawabata Yasunari, the laureate of the Nobel Prize in Literature 1968.
Jacob's Room
by Virginia Woolf, on the other hand, evokes just a few years after the end of the Great War of 1914 to 1918 the life of a promising young man who died for his country leaving behind just a few things that tell of his existence. And finally, I made my way to France, to a small ship in the Arctic ice off the Canadian coast and back to France hunting first precious Inuit art and then a sly thief and fraudster in the contemporary French novel
I'm Off
by Jean Echenoz.
- - - - -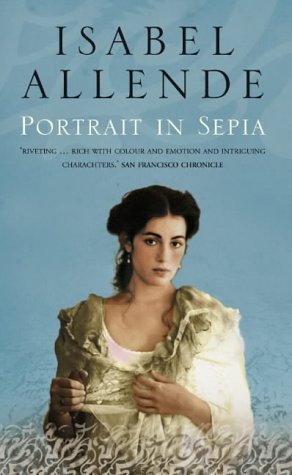 The first-person narrator of
Portrait in Sepia
by Isabel Allende is thirty-year-old Aurora del Vallewho reconstructs her and her family's past. She believes that an experience of early childhood causes her recurring nightmares of men in black pyjamas. Her mother died when she was born in San Francisco's Chinatown in 1880 and her memory sets in only when her maternal grandmother gave her into the care of her paternal grandmother Paulina del Valle at the age of five. Wealthy Paulina took Aurora on a tour of Europe to win her heart and chase away the ghosts of the past. Eventually, they settled down in Paulina's native Santiago de Chile where Aurora grew up like a princess even in the turmoil of revolution and civil war. Aurora became an art photographer, married, divorced and took a lover.
»»»
read more
- - - - -
Although twenty-year-old Chieko was a foundling, her childhood in
The Old Capital
by Kawabata Yasunari was a happy one thanks to the Sadas who raised her like their own child. She loves her parents and never cared to search for her biological parents, but then fate has it that during a visit to the log village of Katayama outside Kyoto with a friend she comes across a girl who is her spitting image. At first, she doesn't give the striking resemblance much thought, meeting the young woman again during a festival in the city makes her curious, though. Chieko talks to her double whose name is Naeko and it turns out that she had a twin who disappeared when she was little. Convinced that they are sisters, Chieko wants to make Naeko part of her family.
»»»
read more
- - - - -
In
Jacob's Room
by Virginia Woolf the things that a young man left behind when he was called to war in 1914, evoke his entire life until this decicive point in history. Jacob was born in the late 1880s and his father died when he was still very young, but for the rest he had quite an ordinary childhood in the small Yorkshire town of Scarborough. At the age of eighteen he becomes a Cambridge man at Trinity College and indulges in the pleasures that student life offers in the early twentieth century. From Cambridge he moves to London to prepare for the bar exam and as an ordinary young man he has love affairs. In spring 1914 he undertakes a long awaited journey to Italy and Greece where he enjoys beauty, love and peace.
»»»
read more
- - - - -
Gallery owner Félix Ferrer, the protagonist of
I'm Off
by Jean Echenoz, is in his mid-fifties when he leaves his wife to start a new life. But things don't turn out the way he desired. His business is increasingly slack and after a few months his young lover throws him out. It's then that his assistant Delahaye draws his attention to a small ship stuck in the Arctic ice off the Canadian coast since 1957 that was recently rediscovered. Onboard the ship is much sought for original Inuit art and Ferrer decides to do everything in his power to obtain the valuable artefacts. Thus against his doctor's advice, he heads for the icy back of beyond on airplane, icebreaker and eventually dogsled. But the true adventure begins only when he's back to Paris and the artefacts are stolen.
»»»
read more