On the five Fridays of July 2016, I presented three contemporary works, two of them genre fiction from Japan and a holocaust novel from Italy, along with two classics from 1920s France and Wilhelmian Germany respectively. I started with the Japanese noir
The Thief
by Nakamura Fuminori about a pickpocket who gets mixed up in a murder. Then I moved back in time to Paris in the early 1920s to follow the daily activities of
Five Women on a Galley
by Suzanne Normand and on to a small German Duchy on the verge of bankruptcy at the
fin-de-siècle
to accompany the
Royal Highness
by Nobel Prize laureate Thomas Mann. In the remote Japanese mountain village of
The Restaurant of Love Regained
by Ogawa Ito an exceptional young cook serves almost magical dishes. And
If Not Now, When?
by Primo Levi evokes the hardships of Jews fighting in the Polish resistance.
- - - - -
It's easy for
The Thief
by Nakamura Fuminori to disappear in the hustle and bustle of modern-day Tōkyo. With his carefully chosen work outfit consisting of expensive clothes and sneakers, he attracts no attention and can move through indifferent crowds picking pockets unnoticed. He is a nameless loner, a nobody who himself doesn't care for the people surrounding him until he comes across a shoplifting boy in the supermarket. The little one reminds him of himself at his age and he wants to rescue him from the doom of being a thief. However, a while ago the thief got involved with an unscrupulous gangster boss who now uses his all too human weakness for the boy to make him do three delicate stealing jobs for him. Then one of his targets is found dead…
Read more »
- - - - -
Set in the bleak atmosphere of Paris a few years after the Great War of 1914-18, the forgotten classic
Five Women on a Galley
by Suzanne Normand portrays five friends in their twenties who all struggle to make a decent living. They are having a particularly hard time because they are single women – unmarried, divorced or widowed – and social conventions of the time still demand that a bourgeois woman of marriageable age should take a man who can feed a family instead of trying to stand on her own feet. If a woman doesn't comply with these unwritten rules, she isn't exactly shunned, but discrimination and humiliation are her almost inevitable lot. The meagre salaries of the five are hardly enough to pay their bills and what is worse they are all in love with married men…
Read more »
- - - - -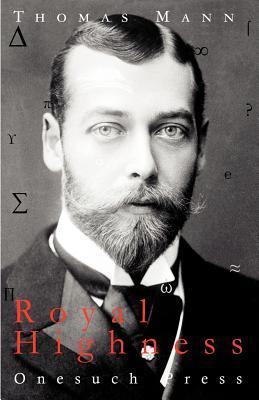 The
Royal Highness
by Thomas Mann, the recipient of the 1929 Nobel Prize in Literature, is the Grand Duke's younger son Klaus Heinrich who was born with a deformed hand that he was taught to hide on his back. Growing up he doesn't get much of a chance to explore his people's lives and minds because as soon as he makes his appearance everybody springs to attention and strives to be agreeable. Thus he learns to do his duty without giving it much of a thought. When his ailing elder brother ascends to the throne, Klaus Heinrich soon takes over virtually all his ceremonial duties, but he feels increasingly dissatisfied. And then Imma settles down in the small duchy on the verge of bankruptcy with her wealthy American father and begins to ask uncomfortable questions...
Read more »
- - - - -
For Rinko, the protagonist of
The Restaurant of Love Regained
by Ogawa Ito, cooking is a vocation. It has always been her big dream to open her own little restaurant one day, but when her Indian boyfriend walks out on her taking with him everything she owns including her savings it seems that it will never happen. Muted by the shock (literally!), not knowing a living soul in town to help her and without money the woman in her mid-twenties reluctantly returns to her unloved mother in a remote village in the Japanese mountains. Under the condition that she pays back every penny she has borrowed and takes care of her pet pig, her mother even allows Rinko to open a small restaurant in what was formerly a garage and soon her dishes show unexpected side-effects…
Read more »
- - - - -
The novel
If Not Now, When?
by Italian holocaust survivor Primo Levi portrays partisan life in the vast German-occupied territories of Eastern Europe, notably Poland and Belarus, until after the end of World War II. Its protagonist is a Russian Jew called Mendel who is also a dispersed Red Army man with no home left to return to because his village and family have long been erased from the face of the earth. Having hidden from the Germans already for about a year, he finally makes up his mind to join a partisan band. After all, he has nothing to lose except his life. With his new companions he moves westward whenever the Germans have destroyed another camp and joins a new partisan band with the survivors to continue their attacks, sabotage and liberation of prisoners…
Read more »