Three years ago I read two classics illustrating the aftermaths of World War I and three very different novels about love. While the forgotten English classic
The Happy Foreigner
by Enid Bagnold shows new life sprouting from battlefields, the classical Austrian novel
Little Apple
by Leo Perutz portrays a man seeking revenge for atrocities suffered in a Russian prisoners-of-war camp. Set in modern-day Tōkyo, the contemporary Japanese novel
The Briefcase
by Kawakami Hiromi follows the budding love between a woman and her former teacher. In contrast,
Of Love and Other Demons
by Gabriel García Márquez, the 1982 Nobel laureate in Literature, is a contemporary novel set in eighteenth-century South America that surrounds a doomed teenager who awakens passionate love in her exorcist. The Japanese historical classic
A Tale of False Fortunes
by Enchi Fumiko evokes the love of Emperor Ichijō and his first Consort Empress just before the year 1000.
The depressing moonscapes serving as scene for
The Happy Foreigner
by Enid Bagnold are the battlefields of France and Belgium just after the end of World War I. In the winter of 1918/19 the young Englishwoman Fanny volunteers as driver for the French army and even in her somewhat "privileged" position living conditions are rough. There is never enough to eat and she sleeps in a makeshift hut by the river together with other women. People living in the area are much worse off, and yet, little by little even they begin to rebuild their lives from nothing. After Fanny has been transferred to Metz, she meets the Commandant's aide at a dance given by the Commandant and the two fall in love. Alas, it's neither the time nor the place for a happy romance however innocent…
Read my review »
In autumn 1918, the young protagonist of
Little Apple
by Leo Perutz returns home to Vienna after the Great War. Together with hundreds of soldiers, four of them friends, he has been released from a Russian prisoners-of-war camp where they had suffered incredible humiliation and terror. Instead of making a fresh start, the officer of the now dissolved Austro-Hungarian army can only think of fulfilling his vow to punish the sadistic camp commandant. Although he notices his family's increasing financial distress, he does nothing to relieve them and eventually he even heads for Moscow to take his revenge. In the post-revolutionary chaos of civil war in Russia, however, his hated tormentor is constantly on the run and for two years he chases after him across post-war Europe...
Read my review »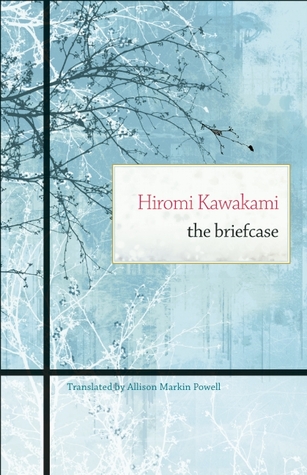 The unlikely lovers who get together in
The Briefcase
by Kawakami Hiromi are a working woman in her late thirties and her former Japanese teacher at high school. They meet at a bar in present-day Tōkyo where they like to pass time drinking and eating to fend off the loneliness that they both feel at home being single and widowed respectively. As time passes, their loose bar acquaintance changes into something more although neither of them is ready to admit it, yet. She has been having her last good-night drinks at the professor's house already for a while, when the bar owner suggests that they have a date. Other innocent dates follow, but nothing else happens between them for another couple of months. Drunk she confesses her love one night and cries out for more …
Read my review »
The story
Of Love and Other Demons
by Gabriel García Márquez who received the Nobel Prize in Literature in 1982 surrounds a dazzling twelve-year-old and her exorcist in his mid-thirties. The only reason why they ever meet in Latin America of the mid-eighteenth century is because a rabid dog bit the girl. In fact, the scratch is hardly noticeable and even after many weeks she doesn't show any symptoms of rabies, and yet, people firmly believe that she is possessed by a demon and keep calling for appropriate measures to be taken. Eventually, the Bishop gives in and asks one of his best-loved priests to exorcise the demon, but as soon as he sees the copper-haired teenager on the verge of becoming a woman he experiences for the first time in his life the passion of love…
Read my review »
A Tale of False Fortunes
by Enchi Fumiko spans little more than a decade in the tragic life of the Japanese Consort Empress Fujiwara Teishi who died prematurely just one year into the eleventh century. When she becomes the first consort of Emperor Ichijō, he is only eleven years old and five years her junior. Consequently, they are more like sister and brother at first, but as they grow older their relations change into true and tender love much to the dismay of many courtiers. To shake their confidence and their loyalty to each other, their opponents spin infamous intrigues and eventually even take recourse to using a false medium to discredit Teishi and her closest family. Nonetheless, the Emperor stands by his beloved consort and mother of his two children…
Read my review »