The Colonial era and the tumultuous times around its end are the red thread connecting my reads of this month three years ago. I started with a wonderfully satirical novel from 1927 about a Protestant missionary on a remote Pacific island that Sylvia Townsend Warner titled
Mr. Fortune's Maggot
. Then I made a detour to Lisbon to watch
The Return of the Caravels
from Portuguese territories in Asia and Africa after 1974 as António Lobo Antunes described it fourteen years later breaking the boundaries of time. Back to the British Empire, more precisely to India in the 1940s, I witnessed the
Clear Light of Day
and the country's way to independence with two dissimilar sisters brought to life by Anita Desai in 1980. And with a 1947 classic from the pen of Naguib Mahfouz, the 1988 recipient of the Nobel Prize in Literature, I visited the people living in
Midaq Alley
in Cairo in Egypt under British protectorate during World War II.
In
Mr. Fortune's Maggot
by Sylvia Townsend Warner a middle-aged missionary living in a remote tropical paradise finds out what love is all about. It's not a usual love story, though, and Mr. Fortune isn't a missionary of the usual kind! In fact, the book satirises a view of the world that is marked by arrogance and narrow-mindedness and that results in an almost complete lack of understanding for other cultures and religions. It evokes an idea of innocence and happiness that hardly corresponds with our western way of thinking. And it talks of true love that has only one desire, namely to make the loved one happy. In this case, it's a latent homosexual love of an ageing man to a boy. Overall, it's a funny and yet wonderfully thought-provoking read.
»»»
Read my review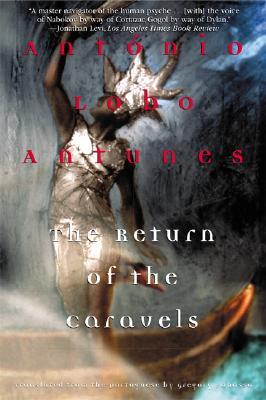 Lisbon in 1974 is the setting of
The Return of the Caravels
by António Lobo Antunes. A good dozen of prominent characters from Portugal's glorious age of discoveries and expansion in the sixteenth century, among them Vasco da Gama and King Dom Manoel as well as Saint Francis Xavier, has come back to the city after the colonies in Asia and Africa became independent. But they aren't the respectable and brave men from the history books. They are aged and disillusioned heroes, and what is more, they are ruthless profiteers or nostalgic drunkards who care little for the people around them, least of all for the women in their lives. On the river Tejo their wooden caravels anchor beside Iraqi oil tankers and their world is decayed. Still they go on living best they can.
»»»
Read my review
Through the memories of two very contrary sisters
Clear Light of Day
by Anita Desai evokes the late 1940s when India gained independence from the British Empire. One of them was such a fearsome girl that the very idea of continuing her studies in college filled her with sheer terror and she preferred to get married as soon as possible. By contrast, the other has always been daring, rebellious and studious, but ended up as a teacher at the nearby college doing her best to keep the family's home in Old Delhi from falling into complete disrepair and looking after their autistic little brother. When the younger sister drops by on her way to the wedding of a niece, they haven't seen each other for many years. Before long memories and old grudges come to the surface.
»»»
Read my review
Cairo, Egypt, in the 1940s. In the old streets of the city like
Midaq Alley
, which Nobel Prize laureate Naguib Mahfouz made the scene of his novel, life seems to go on as ever despite the hardships and terror that World War II causes. Nevertheless things are changing even there because above all the young are dreaming of a better existence. Barber Abbas has got it into his head to marry pretty Hamida, while unknown to him Hamida craves desperately for all the beautiful clothes and jewellery that she sees rich strangers wear in the fashionable streets. In fact, they get officially engaged, but Abbas goes to work with the British army to earn more for his beloved and Hamida finds herself unexpectedly courted by a rich, though married neighbour as well as by a local pimp.
»»»
Read my review