In June 2014 I went a little astray reading-wise. The two contempory works as well as the two classics that I reviewed belong to genres that I don't usually read. I started with a comic novel from the U.K. that is largely set in Germany, namely
Portuguese Irregular Verbs
by Alexander McCall Smith. Then I crossed the Channel to France and plunged into chick-lit for a change, but
The Yellow Eyes of Crocodiles
by Katherine Pancol turned out a little less shallow (and boring) than I had feared. From Paris I moved on to South America and some classical horror fiction from the pen of a writer admired by Jorge Luis Borges and Gabriel García Márquez made available for English-language readers as
The Decapitated Chicken and Other Stories
by Horacio Quiroga. And finally I returned to my own country Austria for the dystopian classic
The Wall
by Marlen Haushofer.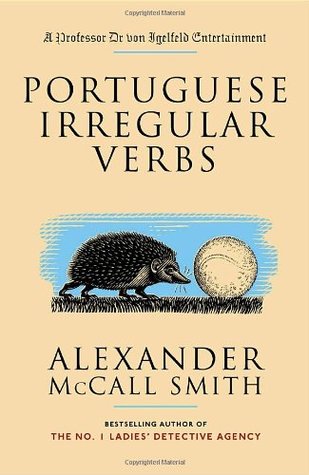 The protagonist of
Portuguese Irregular Verbs
by Alexander McCall Smith is Prof Dr Moritz-Maria von Igelfeld, a hopelessly principled and old-fashioned professor of Romance Philology at the University of Regensburg in Germany. His only academic achievement and his great pride is a voluminous standard work of reference that although selling poorly earns him invitations to conferences around the world even years after its publication. When he's away at a conference in Goa, India, his colleagues at the institute, whom he envies for getting more recognition than they deserve in his opinion, spin a small intrigue against him, but a holy man warns him and he can thwart it. However, to his great dismay he can't avoid being exposed to the imponderables of real life ever again, be it during his holidays in Italy, be it at the dentist's.
»»»
Read more
Set in contemporary Paris, France,
The Yellow Eyes of Crocodiles
by Katherine Pancol surrounds the historian Joséphine Cortés and her family. First her husband loses his exceedingly well-paid job and then he begins an affair with a manicurist. In a rage she throws him out of their apartment and finds herself on her own with two adolescent daughters to take care of and a research job that doesn't yield enough to provide for them all. To turn to her wealthy step-father or to her well-to-do sister Iris is out of the question. She wants to manage alone. When her successful lawyer brother-in-law offers her a translation job as an extra, she gladly accepts, but then it turns out that her husband has left her deep in debt. Now Iris suggests that Joséphine ghost-writes a historical novel for her…
»»»
Read more
The Decapitated Chicken and Other Stories
by Horacio Quiroga is a volume combining English translations of twelve of the finest short stories that the Uruguayan-Argentine writer penned between 1907 and 1935. The scene of most of them is the region along the river Paraná or the city of Buenos Aires and they deal with many of the typical dangers of settlers' life in South America during the first half of the twentieth century. The author subjects his characters to all kinds of common or mysterious illnesses, accidents, recurring tragedies and death making the stories gloomy and horrible like the works of Edgar Allen Poe whom he admired. Some stories, notably the novelette
Anaconda
and
Juan Darién
, remind of fables or fairy-tales because their protagonists are animals, while others seem to anticipate Latin-American magical realism in a way.
»»»
Read more
In
The Wall
by Marlen Haushofer a nameless Austrian woman in her forties joined her cousins for a week-end at their hunting lodge in the mountains. In the morning, she finds herself alone and the area around the lodge surrounded by an invisible wall. She can see the village, but every living creature there seems to have been petrified in one moment like in the children's game or like Lot's wife in the Bible tale of Sodom and Gomorrah. Since the radio is dead too, she can only guess that this is the result of a terrible weapon or of a failed experiment. With dog Lynx, a cow and later a cat as sole companions she goes on with a life determined by the daily routine of hard work and fight for survival for two years…
»»»
Read more