Since there were five Fridays in November 2013, I had the rare pleasure to present five gorgeous reads on my blog. All of them I carefully chose for Rose City Reader's
European Reading Challenge 2013
(
»»»
see my wrap-up post
of January 2014 that includes the complete list of books reviewed for it) as well as in consideration of the melancholy mood of this season of commemoration. None of the books is a murder mystery, and yet, my way through the month was paved with a surprisingly great number of dead people! Three novels – two contemporary and a classical one – focus on the terror regimes in Nazi Germany and Stalin's Soviet Union, notably during World War II, and on the aftermaths or repercussions respectively of the period in people's lives. The other two are a classical English satire and a contemporary Finnish book, which defies being labelled as novel or short prose collection, dealing among others with questions of old age and impending death.
Purge by Sofi Oksanen
is mainly set in a remote village of Western Estonia and takes place on two time levels, namely the 1940s and the early 1990s, both eras of drastic change in the Baltic region. The protagonists are Aliide Truu, an Estonian peasant woman in her late sixties, and Zara, a young forced sex worker originating from Vladivostok who seeks help and refuge on Aliide Truu's farm. In the farmer the unexpected encounter evokes memories of her inglorious and terrifying past when the Molotov-Ribbentrop Pact of 1939, World War II and its aftermaths turned upside down her own as well as all her family's life. But also Zara has to face the purge in which she got caught and which could be called a late result of what Aliide did fifty years earlier to survive in Stalin's Soviet Union.
»»»
Read more
During World War II, fascist Portugal was virtually the last stronghold of peace in Europe and attracted refugees from the war-torn and Nazi-infested continent. The protagonist of
The Night in Lisbon by Erich Maria Remarque
is one of the lucky who made it to the Portuguese capital, but he no longer cares. In return for staying with him during the night and listening to his story, the protagonist offers the narrator two ship tickets to the USA, i.e. to safety. As it turns out the protagonist is a critical German journalist from Osnabrück who lived as an illegal alien in France for five years and then returned to Germany with false papers to fetch his beloved wife Helen. Their flight together took them across half of Europe to the refugees' city of hope. For Helen it was the final destination.
»»»
Read more
- - - - -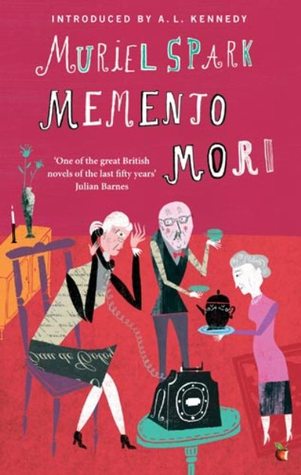 The satirical novel
Memento Mori by Muriel Spark
set in the late 1950s is about a circle of Londoners in their seventies and eighties who suffer to different degrees from the common afflictions of advanced age. Most of them are well-to-do, class-conscious, more or less cranky and they have known each other for ages. One after another is pestered by anonymous phone calls reminding them that their days are counted. All the mysterious strangers pass on to their elderly targets are the words "memento mori", a phrase that is generally translated into English as "remember you must die". Each one of the characters takes the morbid message according to his or her character, i.e. their reactions range from sheer terror over stubborn denial to patient expectation of the inevitable.
»»»
Read more
- - - - -
The Kaddish is the Jewish prayer for the dead. In
Kaddish for an Unborn Child by Kertész Imre
, the recipient of the 2002 Nobel Prize in Literature, a holocaust survivor like the author himself says his novel-length prayer for the son or daughter who could have been. In fact, the child was never even conceived because he refused to bring children into a world in which concentrations camps have been possible. The book is the introspective monologue of a man who feels that he has no right to exist and that his purpose in life is to complete what the Nazi bloodhounds began: "digging his grave in the air". He keeps the ghost of his horrible past alive and consequently he is unable to commit to anyone or anything with his entire self, be it his wife, his career, his dwelling – or a child.
»»»
Read more
- - - - -
In
Fair Play by Tove Jansson
seventeen seemingly unimportant vignettes that revolve around creativity and the life-long friendship of two Finnish women combine to an unusual, but very fine and calm piece of literature. Set mainly at the Baltic Sea, presumably Helsinki and one of the small islands off the Finnish coast respectively, the book allows a glimpse into the daily lives of Mari and Jonna, a writer-illustrator and a filmmaker-graphic artist in their early seventies. They have known each other since childhood and have been sharing their lives for almost as long. Both are painfully aware of getting older and of their dwindling strength. They go on living together and travelling together, but at the same time Mari and Jonna have each a life of her own, a life filled with friendship and love.
»»»
Read more