The Israeli novel
The Remains of Love
by Zeruya Shalev
traces the lives of Hemda Horovitz, her daughter Dina and her son Avner. Hemda could never give Dina enough love while she suffocated Avner with it. Both children suffer and pay for it in their adult relationships. Avner is trapped in a loveless marriage, but he doesn't have the courage to change anything. Dina isn't happy, either. She has a sixteen-year-old daughter, Nitzan, who growing up withdraws from her ever more and her husband Gideon doesn't understand her feeling of loss. As Hemda's health deteriorates and death approaches, her children step out of her shadow and liberating themselves from their emotional ties they take life into their own hands at last.
»»»
read more
The once shocking and now quite harmless coming-of-age novella
Bonjour Tristesse by Françoise Sagan
is about seventeen-year-old Cécile who lives in Paris with her playboy father and doesn't mind his changing affairs. For the summer holidays they travel to the south and settle down in a vacation house by the sea. Cécile doesn't see any sense in studying – as she should – , drinks too much, rebels against her father's fiancé Anne, (successfully) interferes with their marriage plans, and enjoys her first sexual experiences with her boyfriend Cyril without the faintest intention of getting married because he's just a summer flirt. In brief: she indulges in an empty and carefree life based on consumption and entertainment.
»»»
read more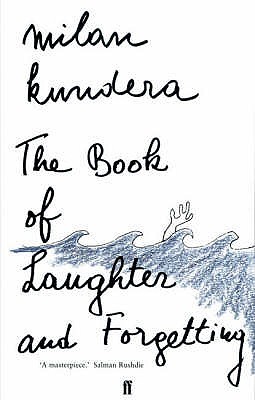 The Book of Laughter and Forgetting by Milan Kundera
isn't really a novel, but a variation on a theme, namely on laughter and forgetting, as the author himself declares. In fact, it's a collection of seven independent stories skilfully linked together by these two essential reactions of human nature to the outside world. The stories deal with politics, history, love, an untranslatable emotion called 'lítost' in Czech, flight, death… thus with life in general as it presents itself at different stages. In addition, Milan Kundera interspersed his stories with many autobiographical remarks as well as first-hand historical information about Czechoslovakia and the lives of people under the Communist regime up to the late 1970s.
»»»
read more
Starting in the small Sardinian village Soreni in the early 1950s,
Accabadora by Michela Murgia
tells the story of Maria Listru. She is only six years old when unmarried and childless Maria Bonaria Urrai takes her as a 'fill'e anima' (a 'soul child' translated literally) into her house, thus informally adopts her following an ancient Sardinian tradition that leaves relations with the natural family intact. By profession Tzia Bonaria is an 'accabadora' (a 'finisher' in English), a woman who kills the agonizing out of mercy, but Maria doesn't know until much later. Otherwise, they lead the ordinary lives of country people who are slowly drawn into the modern world and risk to forget their centuries-old traditions over it.
»»»
read more